So my summer break is ending =( oh man. We should totally have a summer break instead of a summer sem. MY HOLIDAYS ARE TOO SHORT! This holiday has been quite a quiet one. It's mostly catching up on lost sleep and some random meetups! Results are all out and I'm glad that my summer results helped pull up my CGPA for quite a bit. Spring's GPA was horrible no thanks to the 5 heavy mods. But still, not very satisfied with it due to ESL and COM (damn just 1 more mark to an A) Good thing is. NO MORE ESL EVER! 3 COM mods and 1 SOC mod next sem. Hopefully it'll be a relatively normal sem. =/
So while Tim's not in Singapore, I had some time for myself and friends as well. 1st free Saturday was spent with Fiona and Upekha at Upekha's place for some Sri Lankan cuisine! Upekha's back in US and it was sorta a 2nd meetup before she flew off. Since she was flying on the Wednesday after, her younger sister celebrated her birthday early so the whole family can celebrate it together and both sisters invited a few friends over. Sri Lankan food is really really nice :D I still remember when Upekha brought some food to school during our JC days and I loved the beef that her mom cooked :D Got to have it again! Chit-chatted a while before my parents came over to fetch me. Guess it will be next summer before the 3 of us meetup again.
Sunday was awesome because of Voca People! Have been waiting for them to come to Singapore ever since I came across their videos in Youtube 2 years back and finally! We had awesome seats. 2nd row, centre part :D Best part: I got "invited" up by Tubas! Hahahaha. They each had to pick someone from the audience to help them and I got picked by Tubas, the tallest and biggest-sized guy.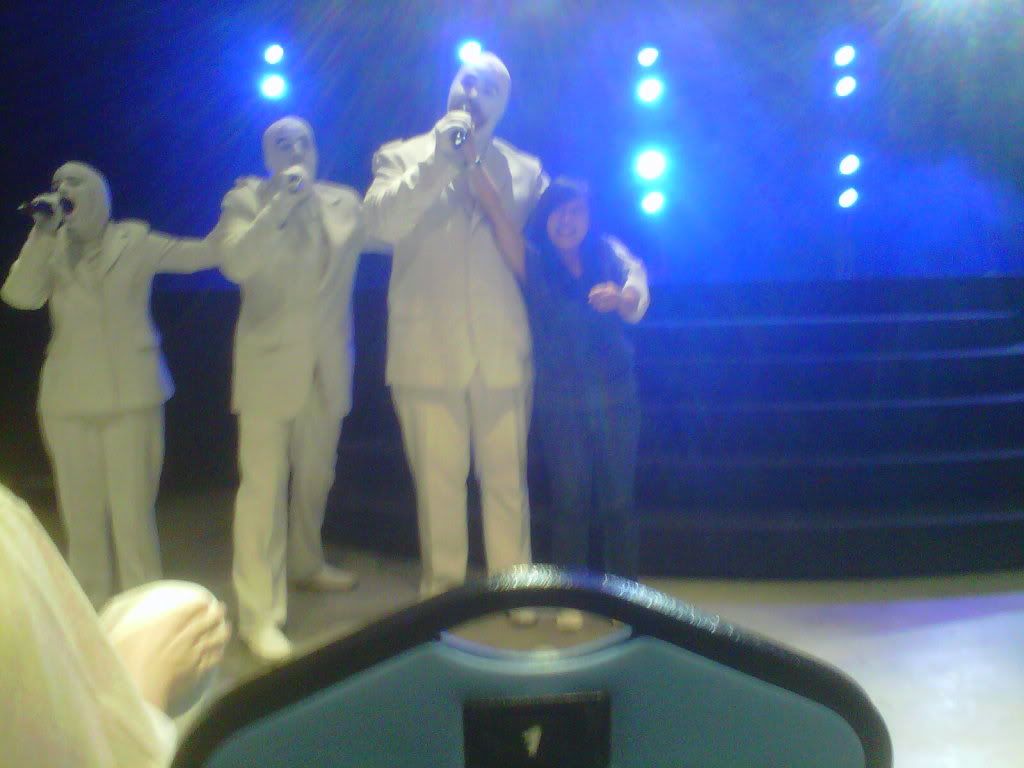 As shown in the photo, with me standing straight and arms straight up, I'm the perfect height to be his mic-stand. LOLOL. He kinda reminded me of b there and then. Hahaha. As the others went back to their seats, he brought me up to the stage. Damn embarrassing can! Esp with JinXing, Lina, SuJin, Emily, David, Guan Han and Lawrence in the audience -.- So his wife came up and he stood in front of me. Weijie commented "You totally disappeared" -.- His wife found me and chased me off. HAHA. And she gave me the "I'm watching you" handsign. Overall, the concert was awesome! The experience of being part of their audience interaction made the entire concert more special :D Totally made my day.
Week 1 of my holidays were spent sleeping, watching dramas (rewatching HIMYM and watching FRESH PRINCE!) and exercising. Although I'm still a little bit lazy when I think of running, I feel very very guilty if I did not run =/ (Today is a perfect example)
Met up with Jia Ying on Wednesday! It's been horribly long since the last time we actually have the time to talk.
Horrible Bosses! Jennifer Aniston is HOTTTT. Haha. It was hilarious and good for laughs.
Had dinner before that! Went to try Raindrops Cafe at Scape and it was not bad!
Appetizers: Portobello with baked chicken (I think!)
Mine: Seafood (something)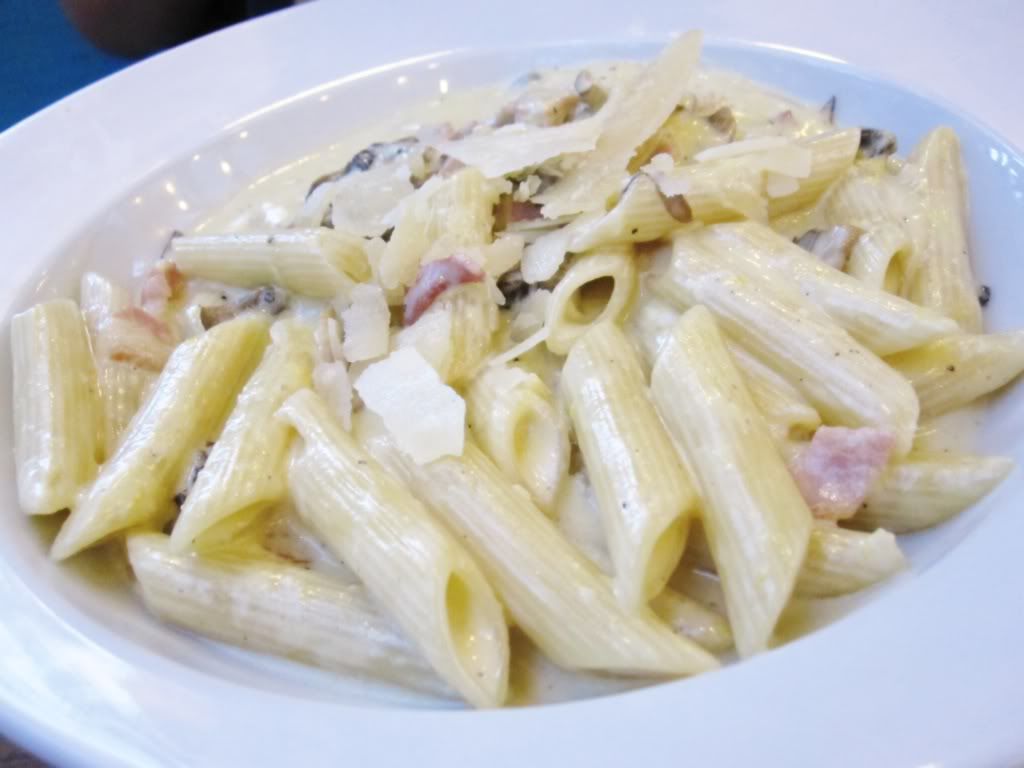 Hers: Some cabonara with bacon bits ( I cant remember the exact name)
Happy Jia Ying! Food's not bad. It's a quaint little cafe and perfect for a meal and a chat.
Went window shopping after that and do what girls do best!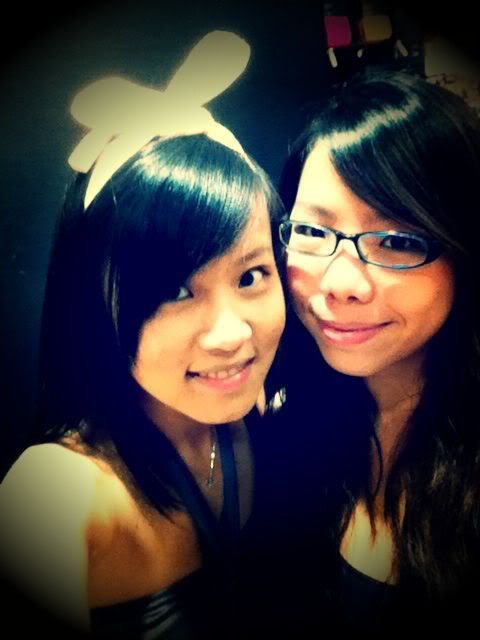 Love this headband but I dont really know how to wear it properly. I look like a rabbit!
Really love the flower. But too big to wear it out!
Since we had appetizer and a main course, dessert is lacking so we went to Starbucks after the movie :D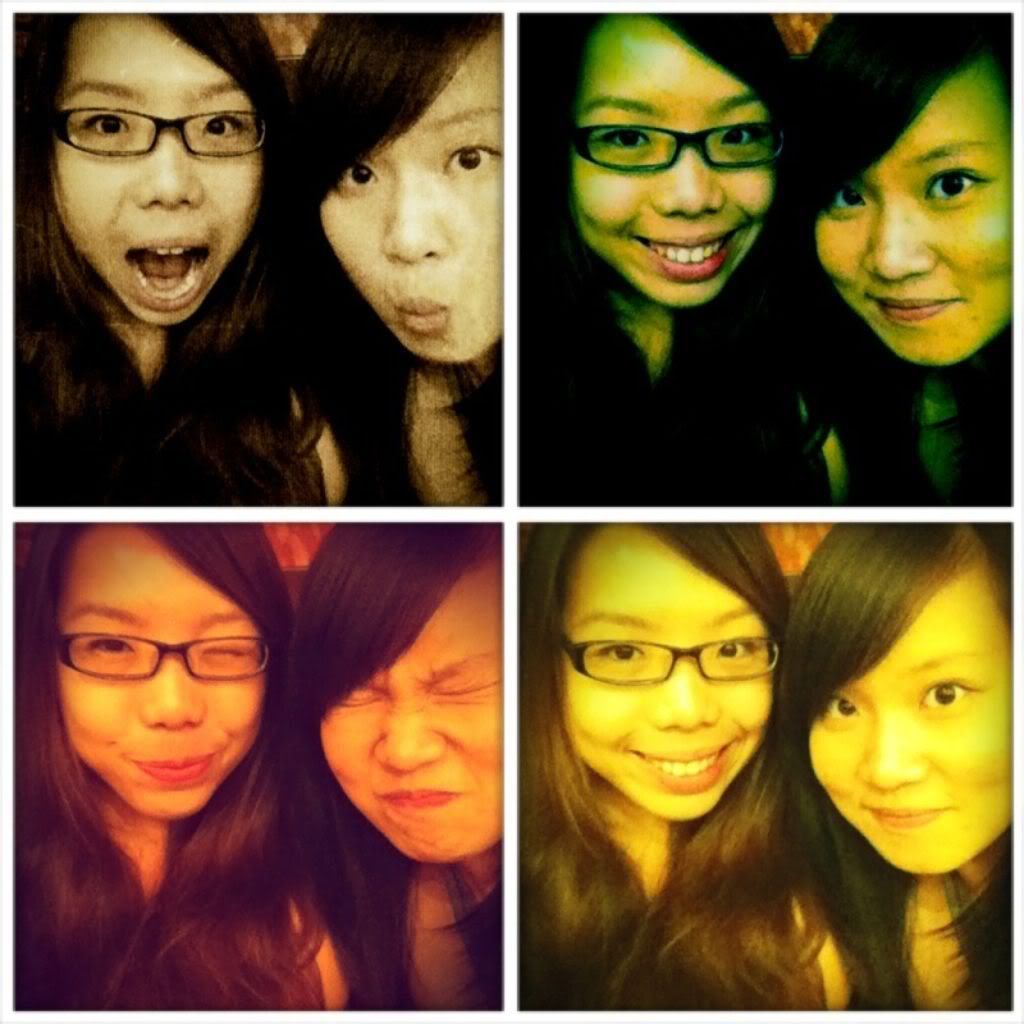 Great meetup!! :D :D :D
Worked at RWS for some event from Monday till tomorrow this week. Finally it's gonna be over. So happened that my senior from FHSS and JJC was working too. Under the same company as well. Haha. It's boring, nothing to do. Basically I was paid to stand and smile :)
Met Siewyi to have an awesome lunch at Ikea!
Great to have a girly time and a goooood chat! Finally get to meet up with her :D :D
Meetup with Inez tomorrow!